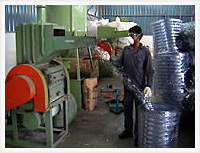 IRM is one of the major companies in Malaysia which specializes in recycling and reclamation services. As a company with:
Permit for dealing with second hand goods and scrap

Approved permits and licenses from the Local Authorities

Permit from the Department of Environment;
We believe in preserving the environment for the future. We have already obtained ISO 9000 (Quality Management System) and ISO 14001 (Environmental Management System) certification. In order to prove that we are still the best in the business we are now working towards OHSAS 18001 certification.
The (OHSAS) specification gives requirements for an occupational health and safety (OH&S) management system, to enable an organisation to control its OH&S risks and improve its performance.

With our advance facilities and equipments, IRM is capable of an estimated production of up to 300 metric tonne of plastic and 600 metric tonne of metal per month. With our logistics capacity of 100 metric tonne per day and our committed and trustworthy employees, we are confident enough to guarantee the protection of your propriety intellectual products and to ensure your satisfaction of services that we provide.
IRM , Your Partner In Conserving The World's Resources