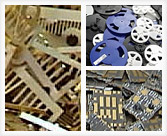 We specialize in reclamation and recycling of:

We also provide the following:
Importing and Exporting of non-ferrous metals.

Industrial waste disposal services.
Our company has the capability to provide professional and efficient pick-up, transport and handling of materials for both local and overseas. Our company also works very closely with several international shipping and forwarding companies to ensure that transportation of goods will reach the client in good condition.
For complete a service, we can also handle transportation of materials from your plant to our center.