Our main commitment is to provide the best service to our customers, and in order to do so, we use the best equipments and offer the best facilities to fully satisfy our customer's needs.
IRM is strategically located in the heart of Malaysia's semiconductor and electronic industrial area with a total land area of approximately 20000 sqm. Excellent working environment is provided to about 110 employees; both from the administrative and production department, enabling them to work efficiently and to produce quality work.
Besides that, both Malaysian plants have in possession state of the art equipments to accommodate the services that we provide.
Apart from the machineries and equipments, we have also put together the best attribute to the plants:
High security within the plant area

Storage capacity:

Crushed Materials - 2000 MTS.

Raw Materials - 1000 MTS.

Strong Room Capacity - 100 MTS.


Full coverage by insurance

Complete with backup power supply
Headquarters (Plant 1)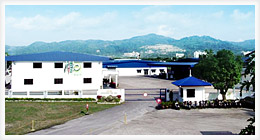 Click on image to enlarge
In short, EXCELLENT infrastructure…